Anthony John IAFF Local 2024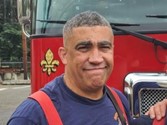 Anthony John has been in the fire service for 25 years and currently works with South King Fire and Rescue. A proud member of Local 2024 he is  assigned to Station 65 as the station captain. He's an Honor Guard commander, an extrication instructor for the Puyallup Extrication Team, and bass drummer for Puget Sound Firefighters Pipes and Drums.
John also in charge of the informal mentor program within the department, which he has been doing since 2004. Recently he  started putting together a group of mentors to recruit and educate future firefighters who are interested in joining the fire service.
About serving on the WSCFF Diversity Committee John says, "I am excited to be part of the WSCFF diversity group and look forward to working with other like-minded passionate people who are excited to spread our wealth of knowledge to the next generation."