Every plate purchased or renewed generates $28 for the WSCFF Benevolent Fund. Thank you!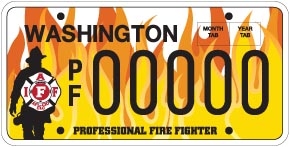 A specialized license plate for fire fighters and paramedics was established by the Washington State Legislature in 2004. This plate series is only available to all active and retired members of the WSCFF. The license plates are issued only to WSCFF members who are one of the registered owners of the vehicle. Plates are available to qualifying two-plated or single-plated vehicles (including trailers, motorcycles, or campers).
You may obtain your WSCFF Certificate of Membership from our website. Log in to your account and go to the My WSCFF page access the information. To obtain the letter online, you must have registered on the WSCFF website. Please contact the office if you need assistance.
Information from the Department of Licensing website on renewing your tabs.