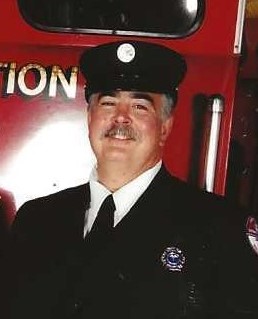 The WSCFF grieves the passing of Mason County Local 2394 retiree James Vincent Verone on June 12, 2022, in Olympia, Washington, his home for 43 years.
Jim started his career as a paramedic in 1980 and was awarded the 1986 Paramedic of the Year. He worked as a fire fighter/paramedic for Mason County Fire District 5 and as a volunteer fire fighter for McLane/Black Lake Fire Department. Jim's talents earned him the Black Lake Fire Department Inspirational Leader award and McLane's Officer of the Year award. Jim also found time to serve as Treasurer for the Washington State Fire Fighters' Association and as President of Local 2984 Mason County FD 5.
Jim loved family and married his wife Terryl on May 21, 1977. He shared that the "best day of his life" was being able to watch his daughter be born. He loved and adored her as he did his two nieces and six nephews. He loved to laugh and enjoyed bantering and sharing bad jokes with his brother and son-in-law. He had an extensive family of friends who meant the world to him. He loved a good time and enjoyed any party.
Jim also loved everything fire related: history, tradition, education, and training the new generations of fire fighters. He loved golf, pheasant hunting with his best friend, Oregon Ducks football, Mariners baseball, being a die-hard Steelers fan, and traveling.
He is survived by his wife, Terryl Louise Verone; daughter, Adrienn Louise Verone-Narvaez and son-in-law, William Narvaez III; mother, Susan Verone; brother, Anthony Verone, and sister-in-law, Regina Donofrio Verone. He was preceded in death by his father, Anthony P. Verone.
Memorial donations may be made to the Washington State Fire Fighters' Association Scholarship Fund, 1910 4th Ave. East, PMB 117, Olympia, WA 98506-4632.