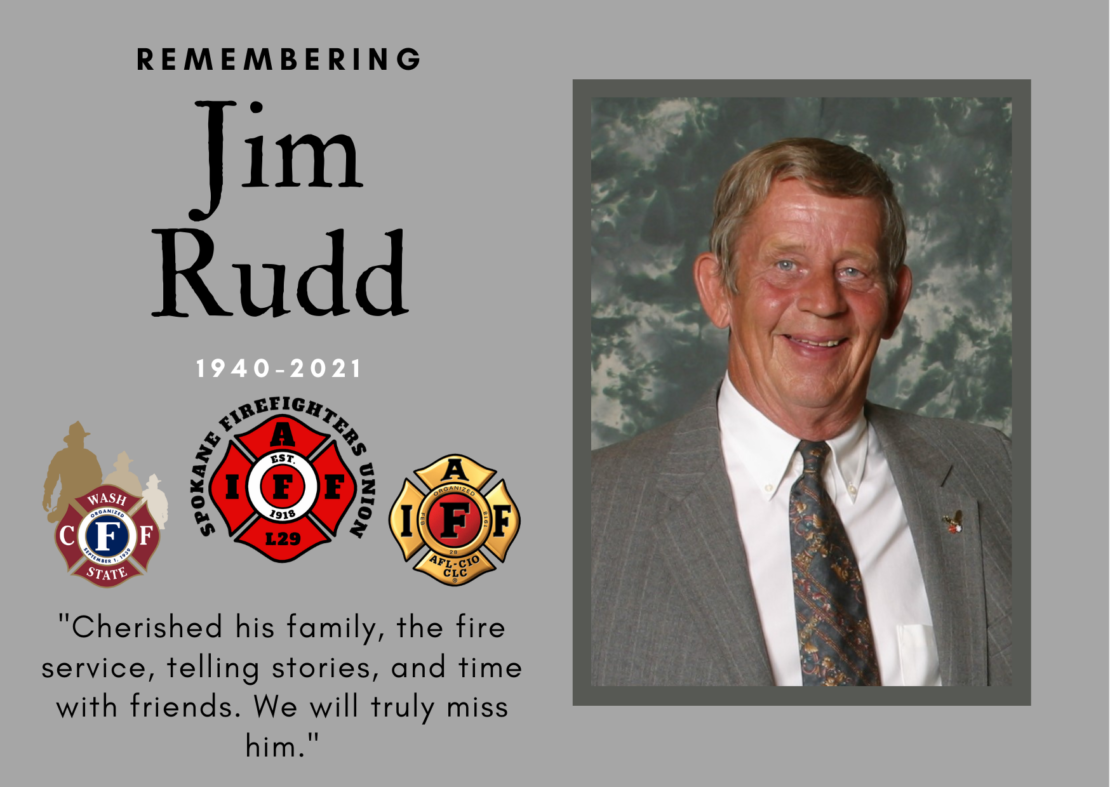 The WSCFF is sad to hear of the passing of Spokane Local 29 retiree Jim Rudd on Wednesday, October 20, 2021. Jim was an integral part of the WSCFF for many years. A constant presence starting in 1988 when he was elected as 1st District Representative, Jim was a part of the legacy and leadership in the WSCFF legislative arena from Local 29 Spokane that started with Jack Waller and Walt Lambert and later included Don Spangle, WSCFF Legislative Director Howard Vietzke, and WSCFF Legislative Assistant Ken Snider.
During his time on the executive board, Jim was elected twice as Vice President of the WSCFF. Jim served at Sergeant-at-Arms for the WSCFF conventions when he was on the board – bypassing other committee chair opportunities to ensure the business of the organization was run smoothly and efficiently.
In 1995 Jim stepped down from the board with Jimmy Cason to join the WSCFF Legislative Team as Legislative Assistant, a position he held until his retirement in 2000. He was instrumental in the legislative successes of the WSCFF during these years, as the lead lobbyist twice changed abruptly during his tenure.
Jim was the first recipient of the WSCFF Position of Distinguished Service, created by resolution and awarded to Jim in 1998. After he retired from the WSCFF, Jim returned to serve as Parliamentarian of the WSCFF conventions from 2002 through 2014 – once again lending his steadfast approach to ensure the organization's business was well-run.
Jim was a great friend to the WSCFF, the administrative staff, and anyone who knew him. He cherished his family, the fire service, telling stories, and time with friends. We will truly miss him. Please view Jim's memorial here.

Jim Rudd's Celebration of Life:
November 13, 2021
1:00-3:00 p.m.
Eagles Lodge
6410 N. Lidgerwood St.
Spokane, WA 99208