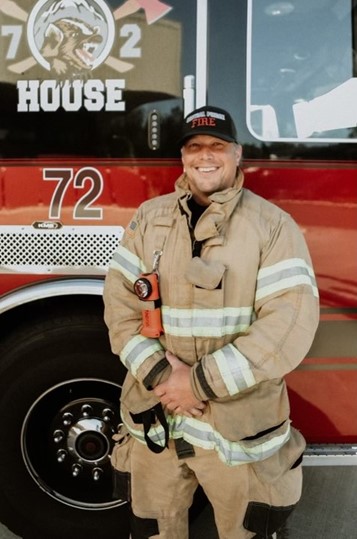 It is with great sadness that the WSCFF and Pierce County Professional Firefighters and Central Pierce Fire & Rescue Local 726 announce the passing of John Garner. John passed away at his home early Wednesday, December 14, 2022, as he was preparing for work. John worked as a Firefighter/Paramedic where he has served the citizens of Central Pierce since 2016, after previously serving the citizens of Ocean Shores for 10 years.
John's death has placed a massive financial burden on his family. We ask for your support. To donate online, please click here and go to the link at the bottom of the page. Or send a check to IAFF 726 Benevolent Fund, Pierce County Professional Firefighters, PO Box 726, Puyallup.
A memorial service for family, close friends, and L726 and L2109 brothers and sisters will be will be held in January. The service will not be open to the public. Find a letter from L726 about the service here.
John was an active and instrumental member of executive Local 726 board and honor guard. John's work was paramount in ensuring families in need had gifts under their tree and food on their table by spearheading an annual adopt-a-family campaign. John was a true labor leader and was a recent graduate of the 7th District- Executive Leadership Series Class II where he spent over a year attending advanced union leadership courses that only a select few have accomplished.
John had an unquenchable thirst for life and laughter. When not aiding the citizens he served or working on behalf of our members, his time was spent traveling, riding his motorcycles, and supporting his beloved Seahawks. John did all this and more with his loving family at his side.