Hook and Batter?
---
05/10/19
---
You might recognize fire fighter Ann Hoag from "Kids Meet a Fire Fighter" or Guy Fieri's Grocery Games episode, "Flavortown Honors Firefighters."   Her South King County colleagues and the WSCFF staff know her for her tasty confectionary creations.  Not many people, she says, "get to save lives and bake cakes."  But Hoag, Local 2024, does both.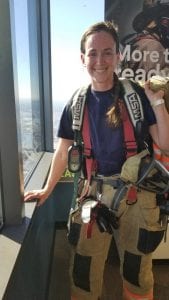 After graduating from Washington State University, she combined her life long love of baking with a Hospitality Business Management degree and went to work managing a bakery.  A couple of years in, she found that it wasn't quite the right fit and went looking for a more challenging line of work.  College testing had suggested an aptitude for work as a police officer, fire fighter, or farmer.  (On the day we spoke, she was working in a garden she'd planted at her station.)  She volunteered as a fire fighter in Whatcom county, which led her to the training academy.  Three days in, she was hooked.  Four years ago, she was hired as a fire fighter/EMT in South King County.  She continued casually making cakes on the side for friends and her fire house family.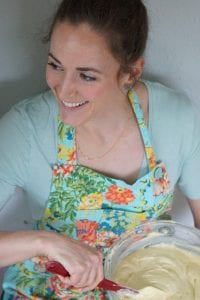 The day she passed her third year JATC the firefighters on her shift asked her when she was going into the baking business and started brainstorming names.  Basically, she says with a smile, they bullied her into the business.  And about a year ago, her "Hook and Batter" business was launched from her home in Tacoma.  The best part of the baking business so far, she says, is being a part of so many special occasions – weddings, birthdays, baby showers.  "Both firefighting and baking are work that my soul loves. . . I love the idea that people, particularly women,  can be or do whatever they want no matter how conflicting those things might seem.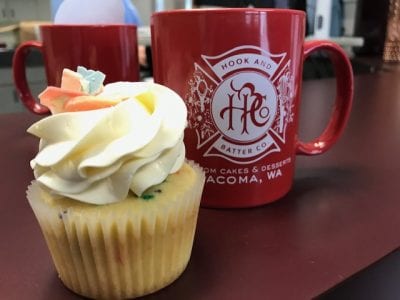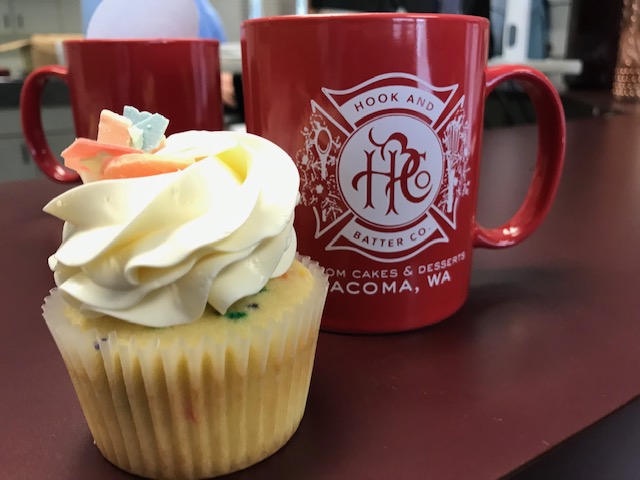 ---