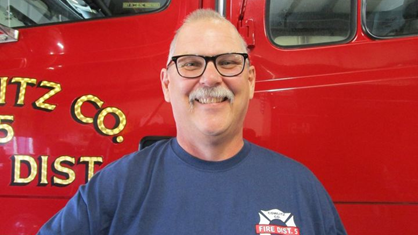 With deep regret, IAFF Local 828 Longview, Local 4447 Cowlitz #5 and the Washington State Council of Fire Fighters report the death of member Alan "Al" Basso. Al died Friday, November 27, 2020, in the morning hours after he responded to two emergency medical calls and was later in a crash, having suffered a heart attack.
After 21 years with IAFF Local 828 Longview Fire Fighters, Al retired from his lieutenant's position in January 2020 to become the volunteer captain of the Kalama Fire Department as well as an EMT and was a 36-year fire service veteran. Al also served for more than two years as a career firefighter with Kalama Fire before serving as a volunteer there for 21 years. Al spent five years with the Washington Department of Natural Resources as a seasonal firefighter.
Local 828 President Justin Noel, who worked with Al for more than 20 years, said, "Al was a great man with a heart full of compassion for his community, who quietly went about his work never seeking recognition. He is a coworker and friend whom all had positive experiences with and will be sorely missed."
In addition to his work in the fire service, Al was also a substitute history teacher at the Kalama School District and had served as the elected Port of Kalama Commissioner since 2012. He is survived by his wife Vicky and daughter Brittany.
Our thoughts and prayers are with his family and our brothers and sisters in Local 828 and Local 4447.
To comply with state and county COVID-19 restrictions, the Longview and Kalama fire departments will hold a memorial procession on Friday, December 11 and a family service with full fire honors in February, 2021.
The procession will start at 2 p.m. at the Calvary Community Church in Longview, and will pass Longview Fire Stations 82 and 81, and Kalama Fire Station 51. The procession will conclude at the Port of Kalama's Haydu Park. Due to COVID restrictions, the procession is not open to the public, and organizers ask the public not congregate at the starting point or at Haydu Park.