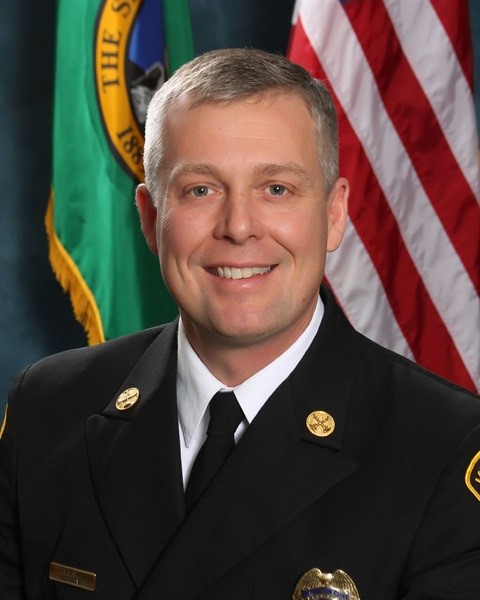 With heavy hearts and deep sadness, the WSCFF and IAFF Local 2545 Kirkland Fire report the death of Battalion Chief Bill Hoover. On July 21, 2023, Brother Hoover and his beloved wife Kristy were killed in a devastating car accident. This profound loss has left us with an immense void, as we remember and honor a dedicated fire fighter and a cherished brother, mentor, leader, and friend. Bill's devotion to our members and tireless efforts have helped safeguard the lives of countless fire fighters, ensuring their well-being even after the flames have been extinguished.
Diagnosed with thyroid cancer in 2010, Bill became actively involved in helping others through their diagnosis and working to prevent duty-related illnesses. He became a champion for new fire fighter safety procedures during and after responses, focusing on mitigating exposure to harmful pathogens and carcinogens found in everyday household items that decompose during fires.
Chief Hoover's advocacy for fire fighter health and safety led to his co-founding the Washington Chapter of the Firefighter Cancer Support Network (FCSN) dedicated to reducing cancer among fire fighters and emergency services personnel and supporting members living with the disease.
Bill wanted all members to be able to document the on-the-job exposures that too often lead to illness or disability. He set out to make it simple; and the WSCFF Personal Injury, Illness, and Exposure Reporting System (PIIERS) was the result – he was the mastermind of the program and instrumental in its design and development.
A kind and brilliant person whose integrity drove him to always envision and give more, Bill took his unwavering commitment to fire fighter health and safety to be part of the creation of Healthy In, Healthy Out, which identifies best practices to reduce occupational hazards for fire fighters to ensure a sustainable and healthy career.
In recognition of his outstanding contributions and dedication, Chief Hoover was honored with the Ricky J. Walsh Fully Involved award in 2016, along with Beth Gallup and Eric Monroe, the first year the award was given.
In March 2023, Hoover was recognized by the Seattle Kraken Unity Fund Heroes of the Deep program for his efforts at the beginning of the COVID pandemic. He was awarded a $32,000 grant to go to the non-profit of his choice – the FCSN Washington Chapter.
We know that Bill's legacy will live on through the lives he touched and the safety measures he championed. Please keep Bill and Kristy's family, friends, Local 2545, and the entire firefighting community in your thoughts as we navigate through this immense grief together.
A GoFundMe page set up in honor of Bill and Kristy Hoover. Your financial contribution will go directly toward helping this family navigate such a terrible loss.
Memorial Service Details:
Thursday, August 24, 2023 at 2:00 p.m.
9900 Willows Rd NE, Redmond, WA 98052
Family, friends, first responders, city employees, and the community are all invited to remember and honor the lives of Battalion Chief William "Bill" Hoover, Kirkland Fire Department, and his beloved wife, Kristy Hoover.
First responders are encouraged to wear dress uniforms and participate in a corridor of honor. Childcare will not be provided during the service.