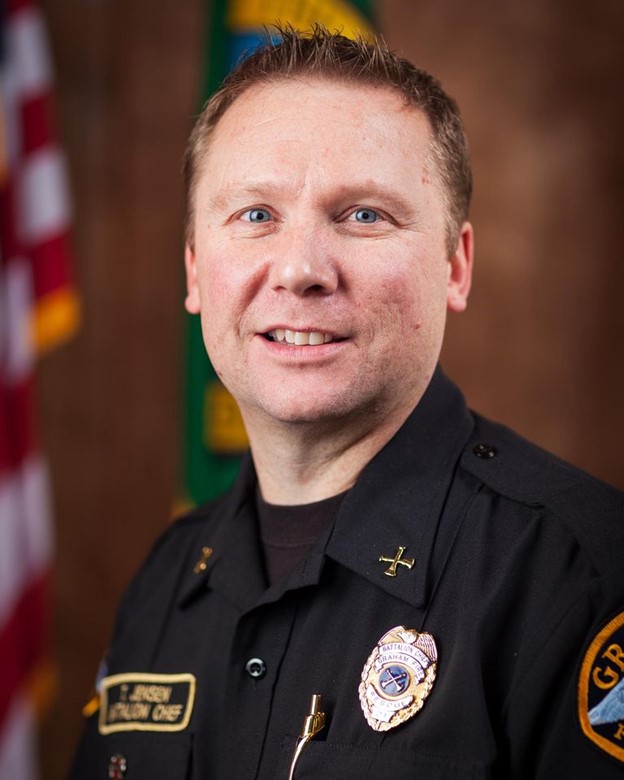 With deep regret, IAFF Local 726 and the WSCFF report the death of Battalion Chief Todd Jensen; he suffered a medical emergency off duty and passed away on July 24, 2024.
Chief Jensen's dedication to Graham Fire & Rescue was evident through his 31-year career, where he served in various roles, leaving behind a wealth of fire service knowledge. From starting as a volunteer fire fighter in October 1991 to becoming a career firefighter/paramedic in 1996, he made significant contributions to the Pierce County Community and touched the lives of many members.
Please keep Chief Jensen's family and fire service brothers and sisters in your thoughts and prayers.
A memorial Fund has been established for Battalion Chief Todd Jensen. Donations can be made online using a credit card. 100% of all donations received will go directly to Battalion Chief Jensen's wife and children. Please use this link: https://unionly.io/o/iaff726/honoring-todd-jensen
or checks made out to IAFF L726 Benevolent Fund mailed to:
Pierce County Professional Firefighters
P.O. Box 726
Puyallup, WA 98371
Memorial Information:
AUG 5, 2023
1:00 p.m.
Urn arrives on a Ladder Truck 12:00 p.m.
Puyallup Church of the Nazarene
1026 7th Ave SW
Puyallup, WA 98371