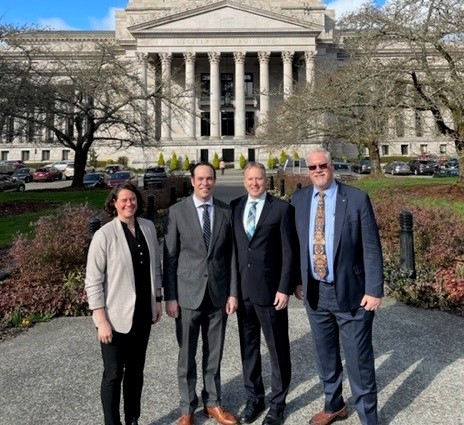 The Washington State Legislature unanimously passed SHB 1701 to remedy a longstanding shortfall in retirement benefits for the state's fire fighters and law enforcement officers. The Washington State Council of Fire Fighters (WSCFF) has worked tirelessly for decades to accomplish meaningful pension reform for Law Enforcement Officers and Fire Fighters (LEOFF) Plan 2 members, and those efforts paid off today.
This legislation modifies the pension formula for active and future members to add five percent of final average salary for service years 16-25, or a lump sum benefit for those who retired prior to February 2021. The benefit improvement is paid for with existing resources from the pension plan; and, for the foreseeable future, contribution rates are expected to be no higher than they currently are.
This benefit would not be possible without the committed work of the dedicated staff of the LEOFF Plan 2 Retirement Board and the members who have served on that board created by Initiative 790 in 2002.
"We must recognize Representatives Steve Bergquist and Drew MacEwen and Senators Steve Conway and Ann Rivers who ensured SHB 1701 moved smoothly through the legislative process and strongly advocated for it along the way," said WSCFF President Dennis Lawson. "Today is a great day for active and retired law enforcement officers and fire fighters. The legislature took action, and now the bill goes to the governor's desk for signature."
If you have questions about how this legislation may impact you, visit the LEOFF Plan 2 site.
All of our LEOFF members saw pension benefits pass last night. SB 5791, providing a benefit enhancement for LEOFF 1 members, passed unanimously in the House and is on the way to Governor Inslee's desk for signature.

Six days remain in the 2022 legislative session. Additional WSCFF supported bills have also seen action. Look for a full report from our legislative team next week