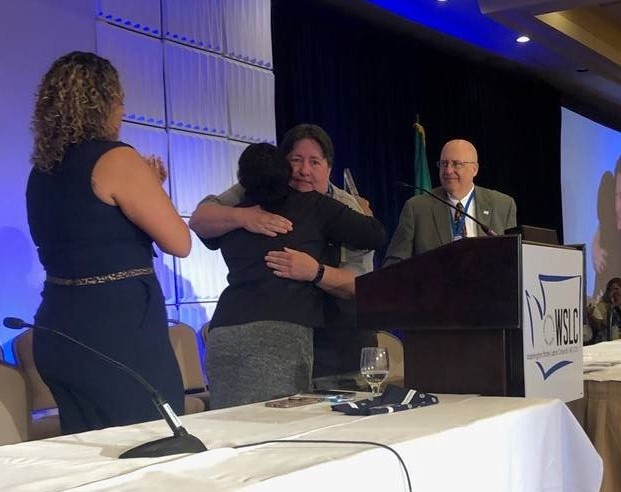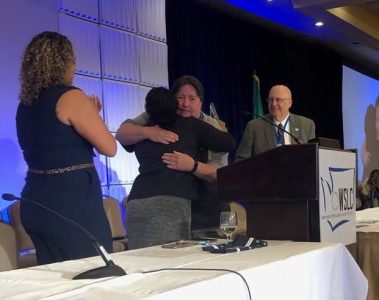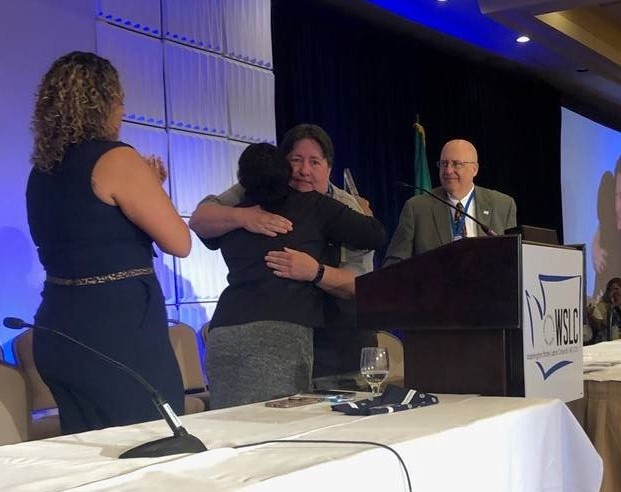 Washington State Council of Fire Fighters (WSCFF) 11th District Representative and retired IAFF Local 27 Seattle fire fighter Theresa Purtell was presented with the Elsie Schrader award for women's leadership at the 2019 Washington State Labor Council (WSLC) convention in July.
The WSLC Women's Committee created the Elsie Schrader award in 1996 to recognize the advancement of women in leadership and for activism on behalf of women within the labor movement.
In presenting the award, WSLC Vice President Shaunie Wheeler said, "This recipient has been a voice for women since her career first began at Bates Fire Training Academy.  Joining the Seattle Fire Department in 1980, she has been a trailblazer breaking down barriers and opening doors for women who will come after her."  In accepting the award, Purtell noted her introduction to the labor movement as child – standing on the strike line with her father, an operating engineer.  She recalled attending her first union meeting in 1980 and remarked that, although it was a bumpy long road, she continued to participate.
Purtell, who retired from the fire service in 2015 after 36 years of service, served in several leadership positions for Local 27.  In 2004, she was elected to represent Seattle fire fighters as the WSCFF 11th District Representative.  She chairs the WSCFF Scholarship Committee.  Seattle fire fighter Dallas Baker said, "Theresa has spent her career making lots of sacrifices and investing so much time and effort to benefit all of us."