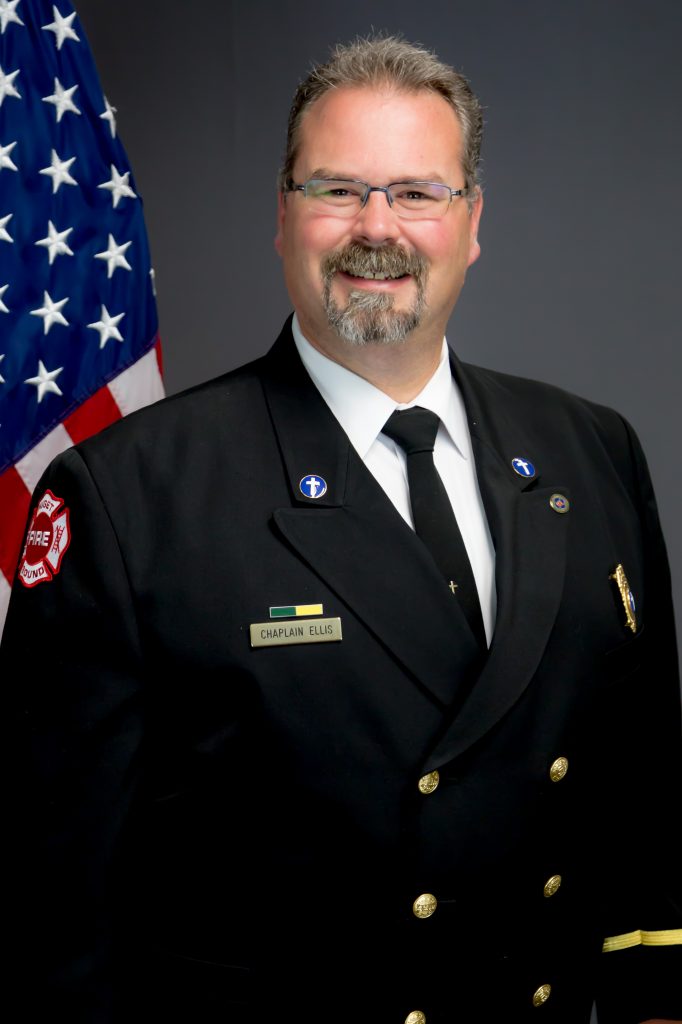 Chaplain Pat is a career public safety chaplain, a critical WSCFF volunteer, president of the Washington State Fallen Fire Fighter Foundation, Honorary Fire Fighter, husband, father, grandfather, and budding YouTube sensation.  Meet Pat Ellis!
Pat's official title is Crisis Center Intervention Coordinator.  He started as a public safety chaplain in 2000 with the Kent Police Department, Puget Sound Regional Fire Authority, Valley 911 Communications Center. He trains and coordinates peer support teams and holds multiple certifications in critical incident stress management, traumatic stress, and traumatic grief. He also teaches critical incident stress management, compassion fatigue, and emotional survival in emergency services courses for public agencies and academies throughout Washington.
Although he sees grief, trauma, and death often, he says he looks forward to each day because he might be able to help someone. Quite simply, Pat Ellis loves what he does. Whenever he walks into a home to help an emergency responder, his number one priority is to offer care, comfort, and compassion. He says it is all about taking care of the person and facilitating the process to find out what they need most in that moment.
As he guides families and first responders through death, traumatic grief, and stress, he says it is an honor to absorb some of the angst and sorrow and help them find a path to honor their loved one. He will go above and beyond to incorporate any wishes the family has for their individual faith backgrounds and traditions. He is an ordained minister and helps with funerals and line-of-duty deaths, as well as births. Pat says his job as a chaplain for people at the beginning of life, the tough times of life, and the end of life can be described in three words, "to hatch, match and dispatch them."
Pat volunteers his services to the WSCFF. He was asked to organize a funeral for a fire fighter who died off-duty, and his involvement grew from there. President Dennis Lawson says "For many years Pat has graciously dedicated his time and energy to stand with the families of our fallen brothers and sisters. His compassion, professionalism, and leadership in these difficult times is invaluable."  For his commitment to promote the best interests of professional fire fighters in the state of Washington, in 2017 the WSCFF honored Pat with the Jack Waller Honorary Firefighter award.
Pat is active with the Washington State Fallen Fire Fighters Foundation, serving as president since its formation in 2010. The Foundation exists to support the families of the fallen, and to raise funds for a permanent memorial on the capitol campus.   Pat has collected and organized a trailer of supplies for memorials, so locals don't have to scramble to find the items they need for a line-of-duty service.
Pat also serves as the State Coordinator for the Local Assistance State Team, a collaborative effort between the National Firefighters Foundation , Bureau of Justice Assistance, and the Department of Justice that supports firefighters when they lose one of their own. He is the co-author of the Washington State Fire Service Line of Duty Death Policy and Procedures manual and serves as the Washington State Coordinator for the National Fallen Firefighters Foundation.
Pat is a busy man.  But, always on the lookout for new ways to help the first responder community, he recently launched a series of short YouTube videos called "Status Checks with Chaplain Pat."  The first two installments "Speed Bumps" and "Positive Affirmations" are well worth watching.  Check them out!