National Firefighter Registry
Location: Heritage Ballroom
Speakers: Alex Mayer, Miriam Siegel

The National Firefighter Registry, created through the Firefighter Cancer Registry Act of 2018, will be a voluntary registry of firefighters that will be used to analyze and track the incidence of cancer among this workforce. All firefighters—structural and wildland, career and volunteer, active and retired, those who have had cancer and those who have never had cancer—are encouraged to join once the NFR opens for enrollment. By providing vital information about their own health and work experiences, firefighters will play a critical role in increasing the understanding of the health risks this profession faces.
The National Firefighter Registry: Understanding & Reducing Cancer
About the Speakers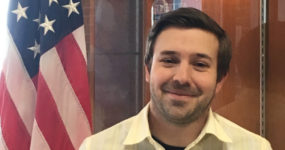 Alex Mayer is a Health Scientist working at the National Institute for Occupational Safety and Health (NIOSH). He is currently working on the National Firefighter Registry (NFR) team with a primary goal of understanding the link between cancer and the U.S. fire service. He graduated with a Master of Public Health (MPH) in Epidemiology from...
Miriam Siegel, Lead Epidemiologist for National Firefighter Registry